How to create an E-Mail account in Linux Cpanel?
Follow the below steps to create E-mail account in Cpanel,
Step 1: Login to your Cpanel account.
Step 2: Click the

Email Accounts

icon in the home page.
Step 3: In the new page, enter the name of the Email, fill the password.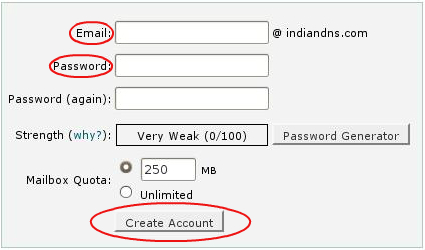 Step 4: Choose the quota for the mail, it represents the amount of disk space which can be used for the mail. Choose either 'Unlimited' or enter the value which denotes megabytes, for e.g. if it entered as 250 then it is 250 MB.
Step 5: Finally, click the

Create Account

button.
Step 6: The email account will be created in your Cpanel account